Reseller hosting is a great way to start your own web hosting business with a strong, trusted partner, NodeSpace. We provide you the backend infrastructure, licensing, bandwidth, and support, you provide your customers a great, hosting platform to build your business on. We give you the ability to host a large number of clients within your account and we make it easy to upgrade to a VPS or Dedicated Server.
Features your customers will love
Powerful control Panel
Our customized powerful cPanel control panel puts your customers in the driver's seat. Easily install scripts, setup email accounts, manage domains and much more with just a few clicks. Click here to demo the control panel (note: demo has certain features disabled)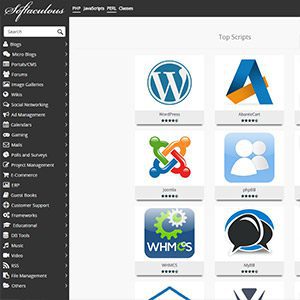 400+ Scripts to let you do anything
Deploy, update and auto-backup over 400 web applications in minutes. Install applications such as WordPress, Drupal, Joomla, Magento, ZenCart, Wiki, Forums, just to name a few. Click here to demo it!
Monthly
Annual (20% Savings!)
Reseller Starter
For starters and small accounts.
Reseller Entry
Entry-level features.
Reseller Growth
Perfect for growing resellers.
Reseller Pro
The reseller who's a pro at this.
Make your hosting business 100% yours with our private label features. There is no reference to NodeSpace anywhere! Add your logo, change the colors to match your brand, create private nameservers that match your business name. Our reseller server hostnames are also completely anonymous with a generic name and private WHOIS – your clients will never know they're hosted at NodeSpace!
Did you know that most hosting providers do not backup their servers, including reseller servers? We take it a step further and provide you with JetBackup. This powerful backup tool gives you (and your clients) self-service access to backups of their accounts. Instantly snapshot accounts, restore databases, even download single files that were deleted. We manage the backup infrastructure so there's no worrying about having to pay for storage. 
Discounted Business Software
Automate your business and take care of tasks like sending invoices, automatically suspending accounts for non-payment, and giving your customers self-service options. We provide WHMCS to all of our resellers at a discounted price, enabling you to save money while providing your customers powerful tools. Starts at $13.00 per month (a $5.95 savings!).